For many organisations, remote or hybrid workplaces are here to stay for the foreseeable future. Many companies have recently announced the extension of their work from home policies, either permanently or temporarily. But what if your organisation wants to move back to a co-located model and you want to keep the flexibility of remote or hybrid work?
The two main options are to pitch flexible working to your current employer, or shift to one of the many organisations where remote/hybrid is the norm.
Much of the change we are seeing in workplaces isn't new. Many organisations and their teams were already working remotely or via a hybrid model. But the COVID-19 pandemic accelerated that change. Organisations saw an opportunity to shift to a more efficient model and employees began advocating for change. In a recent global survey, almost three quarters of Australian workers actively want to work across multiple places and spaces (aka remote or hybrid working).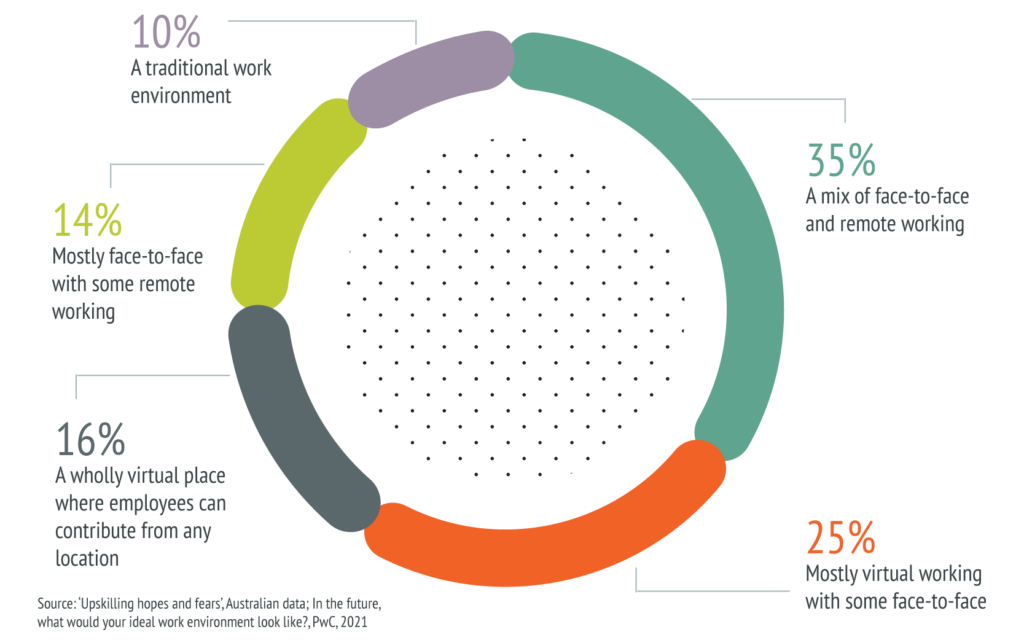 While the change to remote or hybrid working is mainly being done by knowledge workers, the workplace landscape as a whole is changing. The approaches and methods of interaction between all team members is changing, regardless of where they are located, so it benefits us all to have a range of skills to succeed in the era of the fourth industrial revolution.
Remote working is not an innate skill, it needs to be learnt. As hybrid/remote working practices are permanently embedded, there will be an increased expectation to demonstrate competency and fit for remote working.
Skills and characteristics to thrive in the remote/hybrid workplace
To be an effective team member in a remote, hybrid or distributed workplace, there are some core skills that you need to demonstrate to a prospective employer. These core skills are highly valued in an office based role, but in a remote environment have increased importance to ensure the team functions effectively.
Effective communicator
In person, on screen, or in writing, communication strengths or weaknesses are amplified when working in a remote or hybrid environment. Written skills will be called on more than ever, with at least half of all communication occurring in writing rather than verbally. This means communicating through emails, team communication platforms, or written documents. It even applies to using the chat function while you're on a video call. You need to be able to communicate clearly no matter what platform you're using, so make sure you are articulate, be clear and concise.
Collaborative
Working remotely doesn't mean working alone. You will still be required to be part of one or more teams, which means collaborating with colleagues on projects and tasks. As well as being a strong communicator, remote or hybrid employees need to be able to connect with and build on the efforts of their colleagues. Collaboration requires an ability to engage with your team without ego, share information, be open to feedback, hear others ideas and comfortable to challenge and ask questions.
Responsive and transparent
Being responsive with timely communication provides clarity and builds trust. Responsiveness when working in remote or hybrid teams also communicates respect and empathy toward your colleagues and management, as they know you will provide attention when needed. Responsiveness also helps you remain visible in a workplace where you are not sitting across the room from your team. Being transparent with what you're working on means being proactive and knowing when and what to share.
Independent
Don't wait for every instruction. An effective remote or hybrid team member can work independently without constant check-ins and also has a natural ability to establish routines that enable them to be productive. When working remotely you don't have coworkers or managers looking over your shoulder. So, it's up to you to stay focused and work independently, ensure that you complete your tasks and hit milestones.
Flexible and adaptable
Think with a growth mindset and embrace flexible ways of working. In the remote or hybrid environment you need to be able to apply creative problem solving. Remote and hybrid workplaces can offer a lot of flexibility, and their scope goes beyond just choosing your working hours and work location. Being flexible also means that you have to be prepared to adapt to new ways of working, timezone differences, and unexpected situations.
Tech-savvy
You cannot thrive for long as a remote worker unless you are tech-savvy. Although you don't need to be a grade-A techie you need to be comfortable with systems, devices and the latest communication tools and platforms. The more digital skills you possess, the higher you rank among employers that use some form of remote working. Get comfortable using tools like project management software, shared documents and folders, and communication channels where people can easily chat with each other. Each company uses different tools, but this Hubspot article will point you in the right direction of the most common used.
Bonus Credits
There are a couple of things that will get you bonus credits and help you secure and succeed in a remote/hybrid workplace.
Remote work setup
You will be able to be more productive if you have a dedicated space when you work remotely. It will also be more attractive to an employer if you can demonstrate you have a clear workplace where you can operate professionally. A sustainable remote work environment needs to take into consideration ergonomics, light, temperate, and noise, as well as technical aspects such as internet and power.
Remote and hybrid working doesn't just challenge where we work, but when and how much we work as well. Having a dedicated space where you work can help you better define work time and personal time, switching off from work is just as important as switching on.
Get support/guidance from people who have long term experience working remotely
Remote and hybrid working has been around for 5-10 years for some industries. Find a person who has worked in one of these industries, or read some of the many experiences shared online. Use their experience to build your skills and confidence in this environment.
---
So whether you're looking for a role in a remote-first or hybrid workplace, or looking to pitch more flexibility in your work environment, there are core characteristics and skills you will need to demonstrate in order to succeed in this new way of working. Start finding ways to demonstrate your capability and you will have a smoother path into the new world of work.